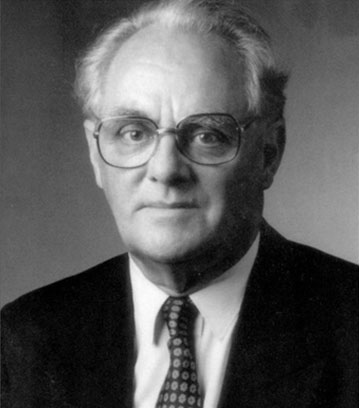 Hans A. Nieper, M.D. of Hannover, Germany was active in Hannover as an Internist and the Director of Medicine at the highly acclaimed Paracelsus Silbersee Hospital. Patients seeking his assistance come from all continents. Internationally, he has become one of the best-known physicians in the fields of Aging, cancerous diseases, multiple sclerosis, mineral and electrolyte metabolism, and the prevention of cardiac disease.
He was born on May 23, 1928, in Hannover, Germany. Both parents were physicians. His grandfather was a well-known surgeon in Goslar.
Dr. Nieper's research, reviewed, recognised and some "officially approved" by the German National Health Authority, has shown his particular supplements and 'mineral carriers' to be the most advanced, usable and results-oriented, for specific deficient conditions and treatments studied. Each nutritional supplement has been programmed to address specific needs metabolically and to digest at the cellular level, therefore you can be assured these products are the best quality and most effective available.
Dr. Nieper's patients included many world stars, royalty and politicians, including Princess Caroline of Monaco, John Wayne, Yul Brynner and Anthony Quinn. Dr. Nieper advised and helped rid the ailing former U.S. President Ronald Reagan of his cancer. Most importantly, he treated thousands of everyday people like you and me. Nancy Sinatra lavished praise on this great German physician: "He is a fabulous person, a recognized scientist, a marvelous doctor." His patients both loved and respected him.
Dr. Nieper believed that aging and disease originates at the cellular level and therefore must be treated at that same level. Around 1980, Dr. Nieper came to the scientific conclusion that effective defense against aging and disease by the body itself has to be explained in terms of "gene repair," where "dysfunctional cells," are either destroyed or are reversed back to that of a normal, healthy cell.
Dr. Nieper discovered and developed various new health curatives, which laid the foundation for his later world-wide fame. These developments include the 'mineral carrier' 2-AEP, which builds and protects cell membranes from attack by virus and disease. Dr. Nieper thus became the discoverer and holds the international patent of 2-AEP, which is approved by the German National Health Authority. In clinical studies, this substance has also shown remarkable effects in slowing all apparent signs of aging, and Dr. Nieper therefore called it his "Anti-Aging Formula."
"Dr. Hans A. Nieper received the International patents for 2-AEP as an "active mineral transporter" and for its therapeutic effects. The Patent Specification document for 2-AEP (combined with Calcium, Magnesium and Potassium) issued by The Patent Office of London states:
The compositions of the present invention, in their various dosage forms have been found to be active in the treatment of:
1. Autoimmune Diseases:
Colitis Ulceros and Mucosa
Hepatitis (chronic and non cirrhotic)
Chronic Nephritis and associated Hypertension
Nephrosclerosis, Malignant, and associated fixed Hypertension
Myocarditis, Jaffe's Myocarditis, Post-infarct Syndrome
Post-cardiotomy Syndrome
Multiple Sclerosis
Osteonecrosis
Rheumatic manifestations, including Rheumatoid Arthritis, Rheumatic Fever, Myocarditis
Sclerodermia
Chronic Inflammation with or without Tuberculosis
2. Allergic Diseases
3. Inflammatory Diseases:
4. Eczema
5. Smooth Muscle Spasma:
Intestinal
Gastric
Bronchial (Asthma)
6. Lupus Erythematosus
7. Gastritis
8. Tuberculosis
9. Osteoporosis
10. Aging
11. Juvenile Diabetis
12. Treatment and diagnosis of Cancer
13. Progressive Muscle Dystrophy
14. Angiosmastic Hypertension
15. Chronic Encephalitis
16. Spondylitis Osteoporosis
17. Intersticial Pulmonary Fibrosis
18. Myalgia
19. Breast Induration
20. Consolidation of Bone Fracture
Dr. Nieper was the founding President of the German Society of Oncology. This biologically oriented cancer society grows tremendously every year and is now the biggest cancer society in all of Europe. He was also a life member of the German Society of Natural Scientists and Physicians.
In the USA, Dr. Nieper was an active member of the New York Academy of Sciences, the American Association for the Advancement of Sciences, the American College of Nutrition and other societies. He was Honorary President of the International Academy of Preventive Medicine and was also Honorary Director of this academy, along with double Nobel-laureate Linus Pauling and vitamin chemist Roger Williams. Furthermore, he was an honorary member of the Center of Frontier Sciences, Temple University, Philadelphia. In France, he was a member of the Société Agressologie, directed by his friend, Dr. Henri Laborit.
Dr. Nieper was also well-respected in the field of physics. He was commissioned on several occasions by NASA for consultant work. He was Honorary President of the German Association of Vacuum Field Energy and Physics, after founding and presiding as President of the Association for 17 years. He also later co-founded the American Association of Gravity Field Energy. These are the first associations in the World dedicated to space energy technology.
Dr. Nieper has published approximately 360 articles and essays, holds 131 International Patents and has published 2 books in several different languages called, Dr. Nieper's Revolution in Technology, Medicine and Society and The Curious Man.
Dr. Nieper died in his sleep on 21 October 1998 of 'exhaustion'. Although this is a great loss to the global health community, he left behind a wealth of information that will be beneficial for generations to come.